Staying Connected This Thanksgiving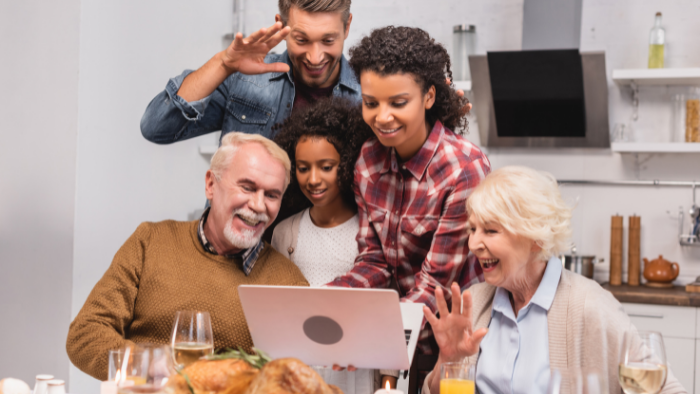 As Thanksgiving nears and marks the beginning of winter festivities, millions of Americans are wondering whether things will go back to normal. But it may not happen as soon as we think. More than half (57%) of us will still rely on celebrations through digital means to celebrate with friends and family safely, following social distancing guidelines. With names like "Virtual Thanksgiving", "Online Thanksgiving", "Zoom Thanksgiving", and "Remote Thanksgiving", this continues our second year into a non-traditional Thanksgiving Holiday for many across the United States and even across the world.
Online Video Calls
Some ways to keep in touch with family and friends is to have group video calls or connect on social media. Whether it's through Zoom, Teams, or FaceTime, get together on a call over dinner. It's like having a conversation at dinner as usual, just maybe not physically. Either way, take lots of pictures and videos to share and commemorate Thanksgiving 2021.
Turkey Trot
Participate in a virtual 10k, 5k, or 1-mile race this year with thousands of other runners. Sign up through the website to receive your gear and run the race at your own pace within four days. No GPS tracking or smartwatches needed, they solely rely on the honor system and hope that this themed run will inspire fitness goals.
Recipe Swaps
Enjoy new or tried and true family Thanksgiving recipes by swapping or finding one online to try. To go the extra mile, send a package (hopefully non-perishables) to friends and family to share the deliciousness.
Preparing for the holidays can be stressful to many, and this year comes with continued difficulties. But no matter what, even without the hugs, it's still an opportunity for us to be thankful for another year with friends and families, virtual or not.
Happy Thanksgiving.