DataOceans Featured in Third Edition of Madison Advisors CCM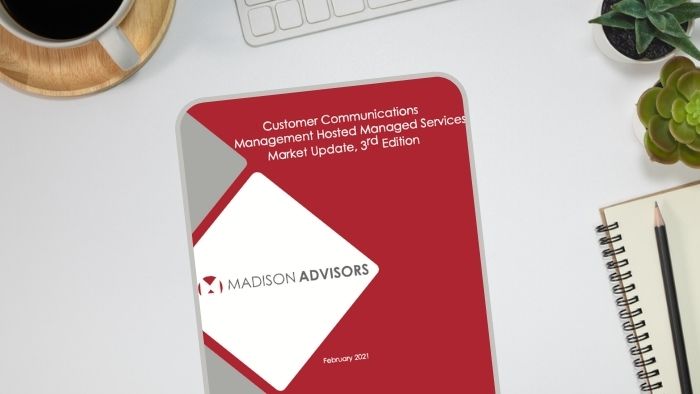 Madison Advisors recently released the third edition of its research report on Customer Communications Management (CCM) hosted managed services (HMS) providers, "Customer Communications Management Hosted Managed Services Market Update, 3rd Edition." DataOceans is one of several leaders in the CCM space profiled in the study, which is a deep dive into various CCM vendor offerings, covering application functionality, implementation best practices, and pricing models.
"DataOceans provides the glue and the know-how for creating excellent customer experiences through communications management. Their Oceanus solution is a complete end to end platform with the extensibility to connect to existing applications. Its innovative technology, wrapped in a leading customer experience layer, enables their clients to orchestrate, manage and govern all customer communications. The company's strategic vision is results-driven and focused on increasing customer loyalty and long-term growth for their clients."
-Kemal Carr, President, Madison Advisors
As in prior editions, the study outlines the seven critical components for a complete and fully integrated CCM solution and the benefits HMS solutions offer to organizations, which include shifting from a CapEx to an OpEx model, retaining regulatory compliance, and moving risks and responsibilities for ongoing maintenance from internal teams to the CCM provider. The report also discusses the challenges that internal IT and Operations organizations face when delivering their own CCM solutions and explains how a hosted delivery model for CCM can improve operational efficiency and success. New to this edition is the inclusion of a handful of print service providers that have begun to offer some CCM capabilities.
"DataOceans is proud to have our extensive CCM and industry expertise recognized in this new edition of the Madison Advisors report," said Randy Beals, Chief Strategy Officer at DataOceans. "Organizations considering customer communications management delivered as a hosted managed service will find this report an essential introduction to CCM technology requirements and key vendor differentiators."
Organizations increasingly recognize the need to expand and enhance their communications to retain competitive advantage. This research report continues to offer valuable industry perspective on the different CCM solutions available in the market today. Madison Advisors is a provider of thought leadership, market research and strategic consulting related to the customer communications management (CCM), electronic delivery, and print industries. Their industry-neutral expertise enables enterprise organizations, service providers, and technology providers to achieve their strategic objectives around customer communications and publishing services. This edition of the report can be downloaded from the Madison Advisors website.
DataOceans' customer communications management solution delivered as a managed service enables companies across multiple industries to improve their customer communications across channels like print, portal, tablet and SMS. Contact us to learn how we can digitally transform your customer communications to increase revenue, decrease costs, and improve customer retention in as little as 90 days, without significant involvement from your IT team.