4 Ways to Make Your Billing Statements More Effective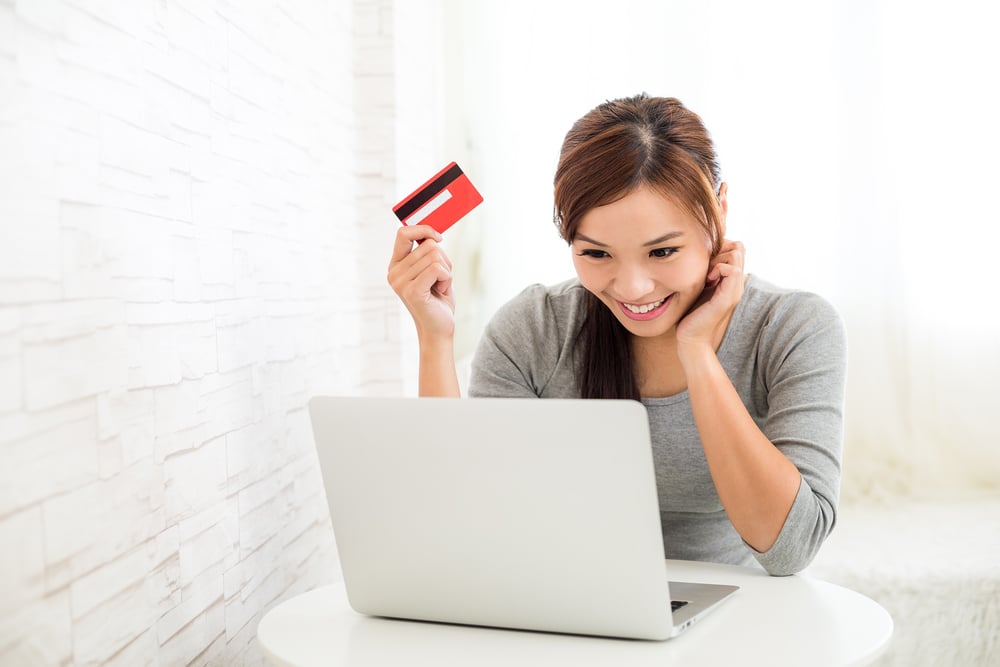 Are you tired of fielding billing inquiry calls that are impacting the performance of your team? Looking for a way to improve payment remittance and the customer experience? Or maybe you want a way to accelerate the adoption of digital payments? Regardless of your goals, solving these challenges starts with rethinking your billing statements.
Your billing statement is more than just a routine document for collecting payments, it is a crucial tool for communicating with your customers. When used effectively, it can help you:
Build stronger customer relationships
Reduce customer confusion
Improve the bottom line
And more...

Essentially, sending effective statements will lead to more revenue.

After years of working with business leaders to transform their billing statements, we have identified four best practices that you can leverage:
1. Lean on Billing Statement Design Best Practices
Confusing billing statements are the number one cause of customer calls. So, the first step in making your billing statement more effective is to tap into design best practices. Your billing statement should have a simple, clean, and modern-looking layout that makes it easy for customers to quickly scan their statements and understand how much they owe and how to pay.
You can also use color to highlight specific pieces of information like past due amounts, charts/graphics, or promotional items. Other elements to leverage include your logo, typefaces, and the proper ratio of white space to content. These principles will ensure that your billing statement is easy to navigate and consume while reinforcing brand recognition among your customers.
Effective billing statement design can improve the customer billing experience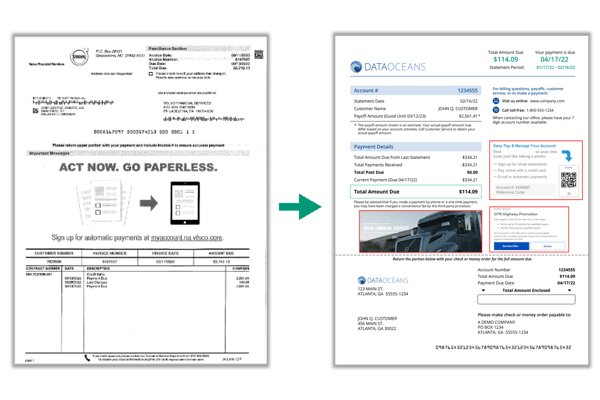 2. Offer Digital Payment
and Delivery
Options
More and more customers are leveraging digital payment options. It's easier, convenient, and at times, safer when compared with more traditional options. But offering digital payment options is a win for you too.
Provide eDelivery options to:
Accelerate payment remittance
Improve payment regularity
Lower overall delivery costs
Better meet customer needs

Even if a customer doesn't opt into digital you can still take advantage of lower-cost payment methods than physical remittance of payment.
Your paper billing statement, in this regard, is the perfect avenue to leverage to promote the shift to digital payments. One way to do this is to include QR codes in your physical billing statement. Rather than typing out a weblink on their phones or computers, customers can use their smartphones to scan the QR code and complete payment.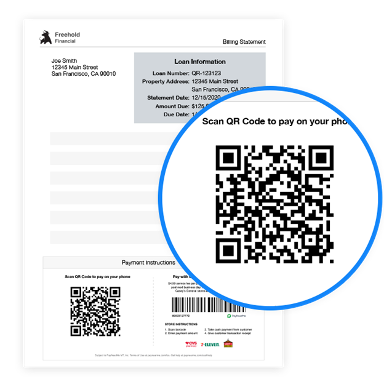 3. Strategically Leverage Your White Space
Unlike other marketing collateral, ads, or emails, a billing statement is something that your customer expects and interacts with monthly. This makes it a prime opportunity to offer customers additional incentives that build stronger customer relationships and drive upsell and cross opportunities. The key to winning with this approach is content personalization.
Your customer data can be leveraged to determine the ideal moment to offer targeted services, boosting revenue streams. For example, if your organization is in financial services, you can use the white space within the customer's billing statement to offer additional loans based on their immediate needs.
This approach can work well if you're in healthcare too. Variable regions of your billing statement can be used to provide personalized messaging to your customer to promote wellness, availability of lower-cost medicines, and more. But what if you don't have a cross-sell or upsell opportunity? In this situation, you can use the extra white space to educate your customers on how to get more out of your service.
4. Streamline the Billing Process with a CCM Platform
If you're running your billing production operations with a legacy print vendor, you might find that they're unable to keep up with evolving needs which can make it difficult for you to put our advice into practice.
One way to bring your statements into the modern age is to leverage a customer communications management (CCM) platform.
Specifically, a CCM platform that can help you:
Create personalized communication at scale by integrating with your customer data sources
Deliver a cohesive omnichannel communications experience
Provide customers with flexible e-payment options
Lower printing costs with a more agile printing process
Provide access to a reliable network of printers

A CCM platform will help you create more effective billing statements that enhance the customer experience and make it easier and faster for you to generate them. It does so by giving you more visibility over the process while streamlining and automating key workflows without IT help or outside vendors.
Now is the Time for More Effective Statements
Your billing statement and payment process is the key to higher customer satisfaction, better internal operations, and improved bottom line.
To get a closer look at how a more effective billing statement can help you, check out this customer success story about a consumer finance organization that transformed its billing statement experience with Billing Hub